Looper:
Action movies, it seems like every day a new one comes out and we get to see the same famous people we know and love spread the gore of nameless foes across the walls and we love it, as there is a place for these movies there is also those who said "I can make it mean something", those who tried to induce emotion behind the bloodshed, to tell grand stories and still being able to kill a man with more bullets than your gun can hold, Looper wanted to do this.
Probably bruce willis face when he found out what his agent set up for him
Time travel, the infinite possibilities are only matched by how many theories of how it works we can make up and if it is even possible, however there are a lot of problems that may arise from this, mainly from peoples inexperience with time travel. This movie plot is about a executioner that works for the mob, in the future the mob got their hands in a time travel device so instead of killing people there they send back 30 years to be killed by our Joseph Gordon Lewit trying to look like Bruce Willis (even with five hours of makeup it didn't work) so yeah… this to me is just stupid and pointless, and here's the reason I didn't go to see this movie from the plotline it didn't make sense to me, as the movie went on I did like it more, because there is a lot of work here in the world at least, Bruce Willis plays an older version of Joseph who is sent back in time to be killed by himself and giving your younger self your retirement plans until you go back and get killed, yeah… I'll get in to why I don't like this after I finish this spoiler free part, so Bruce manages to get away and he's going after the "Rainmaker" the man who killed his wife, making Bruce the best character in the movie because we really get into his mind and him struggle with having to seek out and kill children who may be the rainmaker, yeah pretty heavy on the emotional side. However this is contrasted by Joseph Gordon Lewitt being boring as hell, he is completely uninteresting and I don't care at all what happens to him honestly I want Bruce to succeed and go back to his wife, because supposedly if he kills the rainmaker he would have never sent the guys to kill him and his wife.
The only thing that happens with Joseph is that he runs of to some barn house and as soon as we get the first shots of a kid and a woman I'm like "the kid is the rainmaker and he is going to have a relationship with the woman" it's not even spoilers at this point because it's so god damn obvious, honestly did no one here watch psycho? In order to make a character's identity or role a mystery you must give equal time expanding every character so that there is mystery because otherwise you leave the audience looking at their watches while we wait for the plot to go on with its "dramatic reveal", also its important to note that through all this time they explain this kind of telekinetic ability's that are basically really weak, the rainmaker kid is basically… okay I'm just going to say it, he is Tetsuo, okay minus the body morphing thingy but still that's it, he can do all sorts of things and blows people up like Doctor Manhattan, so Bruce Willis finally goes cowboy on these mob dudes and kills nearly all of them and then goes out to the kill the rainmaker, the ending is pretty good I won't lie it surprised me in cleverly ending the story with a pretty emotional ending.
From here on out there are spoilers! If you haven't watched the movie I don't recommend you read this part.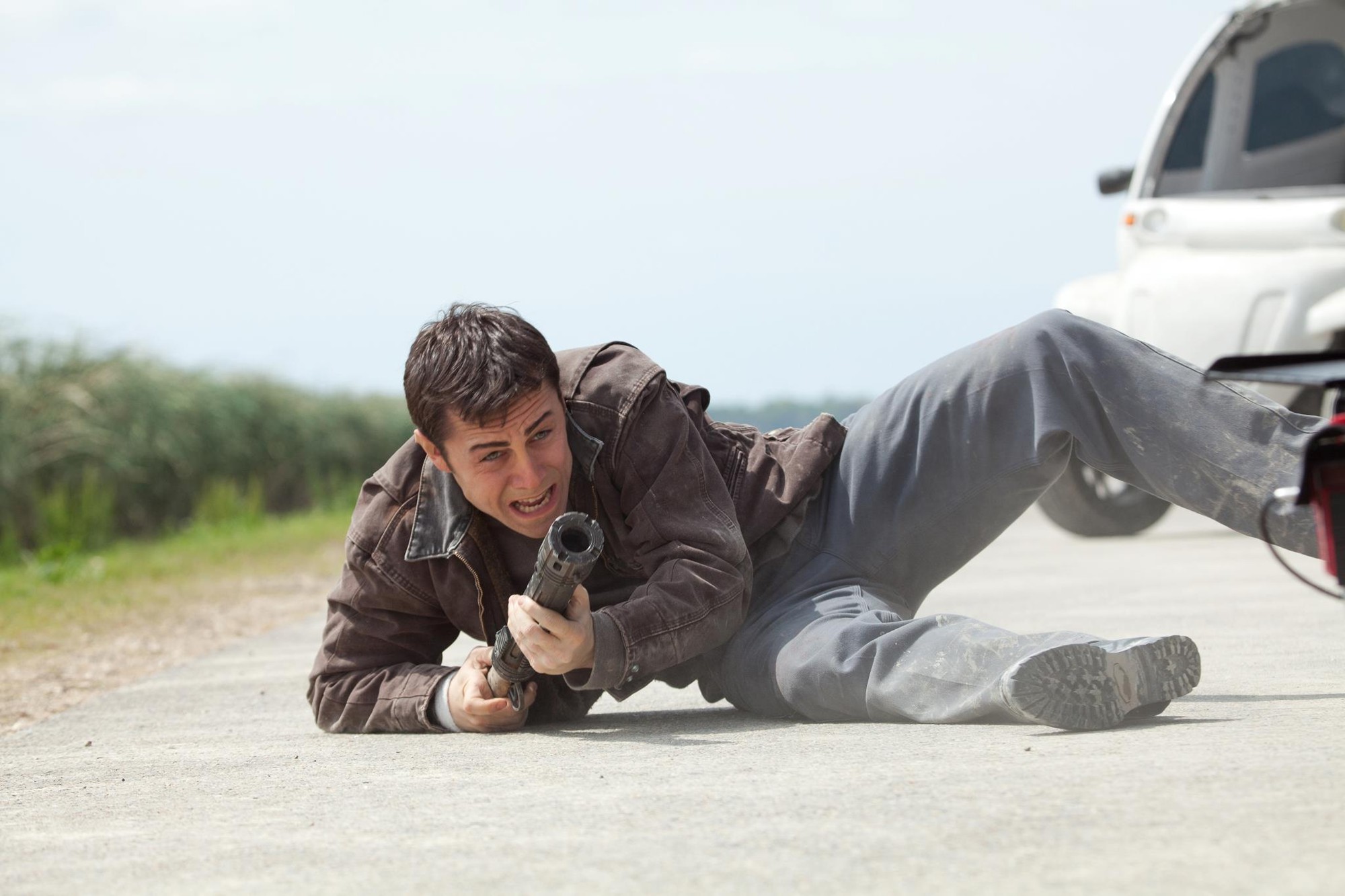 So now the time travel stuff right, yeah sorry Bruce but I am going to spend all the time in the world drawing charts with straws okay?
Well when you set up a one path continuity like this where one can only go back or forwards in time you must explain the father side paradox in which a son goes back and murders his father before the son was born, you must explain this and really the only way you can is through alternate dimensions or something like that, but here you have the same man going back and meeting his younger self, if when Bruce Willis grew old he was able to kill his future self but when he went into the future himself he changed things if that's so how was he killed in the first place? Wouldn't he have done things exactly the same, and in the end its shown that the rainmaker only became the rainmaker because Bruce Willis went back and killed his mother, if that's true than why was there a rainmaker in the first Bruce Willis storyline, and since so much has changed why can Joseph affect Bruce ?Since in all respects they aren't the same person anymore they don't have the same future anymore they only share their past, why can Joseph affect a future that he did not create. Time is very picky about certain things, if you went back into the past and stepped on a butterfly the future could radically change, it might seem fair fetched but imagine you went back in time and stopped the apple from falling into Newton's head,  it would change at least a date in a history book or it could make Newton quit and pursue other thing and in which case you have a different future in some aspects, time travel is interesting but don't fuck with it if you don't know what you're doing.
Great scott marty!!
It's things like this that made this experience feel unsatisfactory to me, even if I had fun watching the movie I felt like with more time it could have been much better
519 total views, 4 views today